140208 Landing Page BHMG
Was on Wall Street. Now I'm back.
(Subscribe: Free 2-week trial to The Agile Trader! You won't be charged a penny!)
February 8, 2014
Dear Friends,
        For the past 3 years I worked for "the big boys" in the investment world. I played the game the way the institutions wanted it played, and you know what? I couldn't stand it!  You know why? Because nobody in that world really cares about their clients' investments. They care about selling you mediocre returns with high fees that will keep them sitting pretty in their Wall Street offices.
        You know what they teach Financial Advisors during training? To sell. And then when you're done selling, to sell some more and then sell some more.  That's it.
        Oh, and one other thing. How to make excuses for poor performance when the markets go against you.
        Almost nothing about investing. And absolutely nothing about trading.  I thought I would choke on the job--on the selling--and it made me sick.
        So, I quit.
        And now I'm back as the Editor and Author of The Agile Trader.  I've been back since November, and we've been nailing the market action like crazy!  Our Equity Options service has been capturing incredible gains, with our Options Trading Account up 163% since we began trading on January 10, 2014!  This is a real "live" account, trading real "live" dollars, as you can see on the graphics published below.  These are screen captures of our actual trading account. No fooling.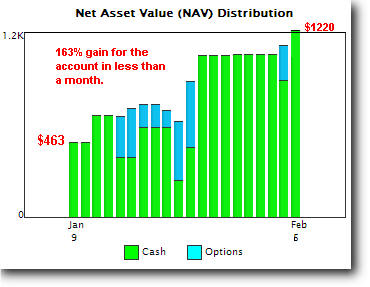 We launched our Options Trading account with just $463 to illustrate a point: that with intelligent trade selection, patience, discipline, and good money management, someone starting out with an incredibly small trading stake can build his wealth and change his financial circumstances for the better.
        While things won't always go as well as they have most recently, we think we're well on our way toward offering up a service that is worth multiples of what it costs our subscribers!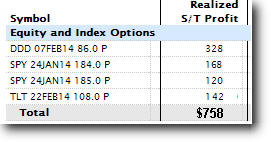 Here are the gains we've made in our Options Service on a trade-by-trade basis during the past several weeks. That's $758 in net gains (after commissions and fees)...in a portfolio that was launched with just $463 in it! 
       If you'd like to take a FREE 2-WEEK TRIAL just CLICK HERE.  You'll receive our Morning Call (including our Equity Trades) each day before the market opens. And our Options Trading Alerts as well, as needed in real time!  That's FREE FOR 2 WEEKS , no risk, no obligation. You can cancel any time you want in those first 2 weeks and you won't be charged a penny!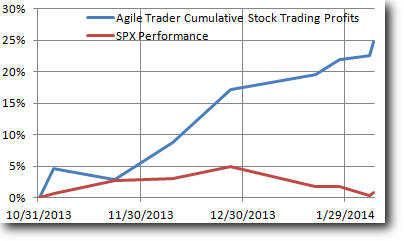 Our stock trading portfolio has 24.8% in trading gains since its inception near the beginning of November. Meanwhile the US stock market is just about flat.
       The question you have to ask yourself is whether your portfolio is making money in "all kinds of weather?"  That's what The Agile Trader is all about!
       Sure, during 2013 it was easy to make money in the stock market. All you had to do was buy just about anything, close your eyes, and hope for the best.  But 2014 promises to be an altogether different kind of environment (as the first month of the year has shown us). The bull market is now in its 5th year.  It's long in the tooth. And what's going to separate those who KEEP their money (and keep MAKING money) from those who are separated FROM their money, is being able to understand the signals the market is sending.  (And sometimes it's barely whispering!).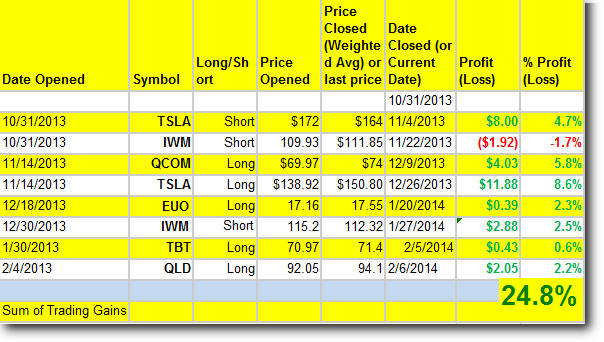 The Agile Trader isn't for everybody. First off, it's not for people who want to live in ignorance, blissful or otherwise.  If you have no interest in understanding the markets, or in profiting from that understanding, then you should close page right now.  It's a waste of your time.
       If you do want to understand how the markets work and what they're likely to do next, and if you'd like to profit from that understanding, then you owe it to yourself and your family to explore what trading can do for you as an "alternative asset class."
       What do I mean by an "alternative asset class?"  I mean a way of investing your money (in this case trading) that has a low correlation to the stock market.  I mean an asset class that can make you money whether the stock market is going up, down, or sideways.  I mean a way of putting your money to work so that you're not just a tag-along passenger on the stock-market roller-coaster. But rather you've taken control of your hard-earned money, and you're making it work for you, in all kinds of market environments.
       If you'd like to take control of your financial future with us, take a free, no-risk, 2-week trial to The Agile Trader today!
      In our Morning Call, we'll keep you completely updated on the latest market-moving news and events, the market's long-term, mid-term, and short-term trends, support and resistance levels, its divergences (both bullish and bearish), and just how sentiment is driving the action, We'll never leave you hanging and I'll always keep you fully informed on our market outlook.  
       Then, in our REAL-TIME TRADING ALERTS,  we'll e-mail you our trade recommendations in real time! We'll tell you when to get in, when to get out, and at what price. We do the work. You make the trades.
       Take a risk-free 2-week free trial to our Morning Call with Real-Time Stock Trades ($39.95/month or $383/yr--a 20% discount!) by clicking HERE.
       Or take a 2-week free trial to our OPTIONS SERVICE ($99/month or $990/year--you get 2 months free!) by clicking HERE.
       If you have any questions, please feel free to email us at theagiletrader@gmail.com and we'll get back to you as soon as we can.

       Best regards and good trading

       Adam Oliensis
       Editor
       The Agile Trader