Subscribe: The Agile Trader Options-Trading Service w/ Free Trial
Take a free two-week trial to The Agile Trader Options-Trading Service today, and get our real-time options trades via e-mail as we enter and exit the positions. Sign up now, and you will not be charged until the two-week trial ends. No risk. Cancel any time. 
We'll keep you updated via email on our real-world options trades the minute we enter and exit them. And we'll track our performance in a real account.  Here's what we've done for our subscribers lately.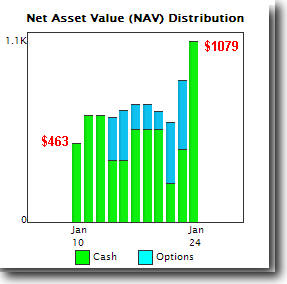 We began this trading program with a minimal $463 trading stake. Why? To illustrate how even from the humblest of beginnings, money can be made using limited resources, intelligent trade selection, and judicious money management. Join our Options Trading Service today!
Here's what's included in your free two-week trial subscription:
Our MORNING CALL, delivered daily via e-mail. We'll keep you completely updated on the latest market-moving news and events, the market's long-term, mid-term, and short-term trends, support and resistance levels, its divergences (both bullish and bearish), and just how sentiment is driving the action, We'll never leave you hanging and I'll always keep you fully informed on our market outlook.
REAL-TIME TRADING ALERTS.  We'll e-mail you our trade recommendations in real time! We'll tell you when to get in, when to get out, and at what price. We do the work. You make the trades.
Full access to the entire Web site, including SPECIAL REPORTS and EDUCATIONAL MATERIAL. We're thrilled to have our own Web site dedicated to our subscribers. We have a ton of great ideas and finally a place to implement them. As a charter subscriber you'll be with us every step of the way.
If you're new to the site and would like to try the service for two weeks, risk free, click the SUBSCRIBE button below and enjoy our service free of charge for 14 days!
COMING SOON: Be the first to find out about new services coming soon, including an exciting Sentiment-Based trading system we will be launching in the weeks ahead.
Sign up today and in addition to our options trades, you'll get our Morning Call (regularly $39.95/mo. or $383/year), which includes our market analysis and our stock trades as well.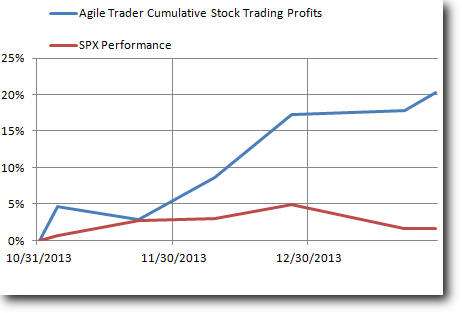 We invite you to join us! Understand what the markets are saying, and trade that understanding!
Best,
Adam Oliensis, Editor
The Agile Trader